O. Hans Iwenofu, MD
Professor-Clinical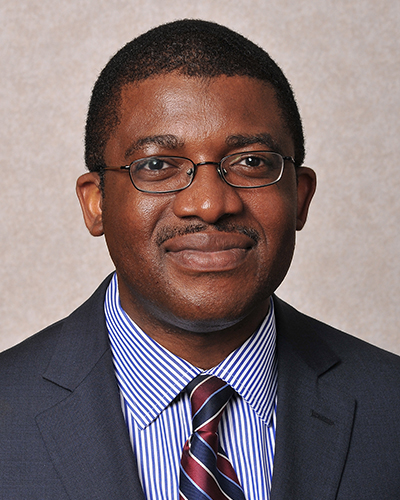 Phone:
E-mail:
Mailing Address:
E418A Doan Hall
410 W. 10th Ave
Columbus, OH 43210
Biosketch
O. Hans Iwenofu, MD is a Professor in the Anatomic Pathology Branch and a faculty member of the Division of Bone and Soft Tissue. Dr. Iwenofu earned his MBBS at the College of Medicine, University of Nigeria in Enugu, Nigeria. He started his residency at the University College Hospital Ibadan, Nigeria, before coming to the United States where he completed his residency training in Anatomic and Clinical Pathology at the University of Oklahoma Health Sciences Center in Oklahoma City. Dr. Iwenofu then went on to complete a fellowship in Oncologic Surgical Pathology at Roswell Park Cancer Institute in Buffalo, New York followed by a fellowship in Soft Tissue/Bone Pathology at the University of Pennsylvania in Philadelphia.
Dr. Iwenofu's research interest is focused on understanding the underpinnings of sarcomagenesis, biomarker discovery and personalized medicine as it applies to soft issue and bone tumors. In a collaborative seminal study titled: "miR-29 acts as a decoy in sarcomas to protect the tumor suppressor A20 mRNA from degradation by HuR" they discovered a unique regulatory circuitry of the decoy function of miR-29 on HuR in the regulation of A20 tumor suppressor activity. This finding uncovers a completely new role of the microRNA-29 besides its tumor suppressor function and provides insightful clues as to why NF-kB is constitutively elevated in different sarcoma subtypes thus maintaining cells in a perpetual primitive state.
Dr. Iwenofu is the recipient of several awards including: Anatomic Pathology Faculty Teaching award, Stowell-Orbison Certificate of Merit and Honorable Mention at the 95th annual meeting of the United States and Canadian Academy of Pathology (USCAP), Crane award and residents first prize award (at the University of Pennsylvania), Pickren award for the distinguished and best overall clinical fellow (from the Roswell Park Cancer Institute, Buffalo, NY) , Donald West King Fellowship award at the Armed Forces Institute of Pathology (AFIP) and Nancy K. Hall award for the outstanding first year resident in pathology at the University of Oklahoma, Health Sciences Center, OK. He has published many papers focused on clinical and translational aspects of soft tissue and bone bones and serves on the editorial boards of Human Pathology, Journal of Surgical Oncology and BMC Cancer.
He believes the rich culture of multispecialty collaboration and collegiality that exists in The Ohio State University Wexner Medical Center makes it a unique place to practise medicine and offers tremendous opportunities for cutting-edge research and delivering the best quality care to our patients.
Board Certifications
Anatomic & Clinical Pathology Certification, American Board of Pathology
Academic and Medical Appointments
Professor-Clinical, Department of Pathology, The Ohio State University Wexner Medical Center, Columbus, Ohio
Education and Training
2006-2007 Fellow, Soft Tissue/Bone Pathology, University of Pennsylvania Health System, Philadelphia, Pennsylvania
2005-2006 Fellow, Oncologic Surgical Pathology, Roswell Park Cancer Institute, Buffalo, New York
2001-2005 Resident, Anatomic & Clinical Pathology, University of Oklahoma Health Sciences Center, Oklahoma City, OK
1999-2001 Resident, Anatomic Pathology, University College Hospital Ibadan, Nigeria
Selected Publications
Book Chapters:
Malignant Peripheral Nerve Sheath Tumor In Sarcoma Oncology: A Multidisciplinary Approach. Keluo Yao, MD, Jason Payne, MD, Thomas J. Scharschmidt, MD, Arvinder Bhinder, O. Hans Iwenofu, MD. Editor: Raphael Pollock, MD, PhD. Publisher: PMPH-USA (People's Medical Publishing House-USA). 2016
"Diagnostic Pathology of Bone Tumors" In Pediatric Bone Tumors by O. H.ans Iwenofu, MD, Stephen Druham, MD and M. Arnold, MD, Ph.D In Pediatric Bone Tumor Textbook. Editors: Tim Cripe, MD, Ph.D. and Nicholas Yeager, MD. Publisher: Springer. 2015.
Jones NB, Iwenofu H, Scharschmidt T, Kraybill W. Prognostic factors and staging in soft tissue sarcomas: an update. Surg Oncol Clin N Am.2012 April; 21(2):187-200.
Publications:
Sachak T, Heerema NA, Mayerson J, Payne JE, Parwani A, Iwenofu OH. Novel t(1;2)(p36.1;q23) and t(7;19)(q32;q13.3) chromosomal translocations in ischemic fasciitis: expanding the spectrum of pseudosarcomatous lesions with pathogenetic link. Diagn Pathol.2018 Mar2;13(1):18.
Rao N, Iwenofu H, Tang B, Woyach J, Liebner DA. Inflammatory Myofibroblastic Tumor Driven By Novel NUMA1-ALK Fusion Responds to ALK Inhibition. J Natl Compr Canc Netw.2018Feb;16(2):115-21.
Renne SL, Iwenofu OH. Pathology of retroperitoneal sarcomas: A brief review. J Surg Oncol.2018 Jan;117(1):12-24.
Lopez G, Braggio D, Zewdu A, Casadei L, Batte K, Bid HK, Koller D, Yu P, Iwenofu OH, Strohecker A, Choy E, Lev D, Pollock R. Mocetinostat combined with gemcitabine for the treatment of leiomyosarcoma: Preclinical correlates. PLoS One.2017 Nov29;12(11)e0188859.
Varghese S and Braggio DA, Gillepsie J, Toland AE, Pollock R, Mayerson J, Scharschmidt T, Iwenofu OH. TGF-b and CTGF Are mitogenic Output Mediators of Wnt/B-Catenin Signalling in Desmoid Fibromatosis. Appl Immunohistochem Mol Morph.2017 Sep;25(8):559-565.
Price RL, Harkins L, E. Antonio Chiocca, Zhang P, Kurt H and Iwenofu OH. Human Cytomegalovirus is present in Alveolar Soft Part Sarcoma. Appl Immunohistochem Mol Morph.2017 Oct;25(9):615-619.
Casadei L, Calore F, Creighton CJ, Guescini M, Batte K, Iwenofu OH, Zewdu A, Braggio DA, Bill KL, Fadda P, Lovat F, Lopez G, Gasparini P, Kladney RD, Leone G, Lev D, Croce CM, Pollock RE. Exosome-Derived miiR-25-3p and miR-92a-3p Stimulate Liposarcoma Progression. Cancer Re.2017;77: 3846-3856.
Kurt H, Arnold CA, Payne JE, Skoracki RJ, Iwenofu OH. Massive Localized Lymphedema: a clinicopathologic study of 46 patients with an enrichment for Multiplicity. Modern Pathol 2016; 29:75-82.
Yu PY, Balkhi MY, Ladner KJ, Alder H, Yu L, Mo X, Kraybill W, Guttridge DC, Iwenofu OH. A Selective Screening Platform Reveals a Unique Global Expression Patterns of microRNAs in a Cohort of Human Soft Tissue Sarcomas. Lab Invest. 2016;96(4):481-91.
Fenger JM, Roberts RD, Iwenofu OH, Bear MD, Zhang X, Cuoto JI, Modiano JF, Kisserbeth WC, London CA. MiR-9 is overexpressed in spontaneous canine osteosarcoma and promotes a metastatic phenotype including invasion, migration in osteoblasts and osteosarcoma cell lines. BMC Cancer.2016;10:784
Bill KL, Casadei L, Prudner BC, Iwenofu H, Strohecker AM, Pollock RE. Liposarcoma: molecular targets and therapeutic implications. Cell Mol Life Sc. 2016.2016;73(19):3711-8.
Udager AM, McHugh JB, Betz BL, Montone KT, LiVolsi VA, Seethala RR, Yakirevich E, Iwenofu OH, Perez-Ordonez B, DuRoss KE, Weigelin HC, Lim MS, Elenitoba-Johnson KS, Brown NA. Activating KRAS mutations are characteristic of oncocytic sinonasal papilloma and associated squamous cell carcinoma. J Pathol.2016;73(19:371-8.
Smith SM, Coleman J, Bridge J, Iwenofu OH. Molecular diagnostics in soft tissue sarcomas and gastrointestinal stromal tumors. J Surg Oncol. 2015; 111:530-31.
Hemminger JA, Toland AE, Scharschmidt TJ, Mayerson JL, Guttridge DC, Iwenofu OH. Expression of cancer-testis antigens MAGEA1, MAGEA3, MAGEA3, PRAME, SSX2 and CTAG2 in myxoid and round cell liposarcoma. Mod Pathol. 2014, Sept;27(9):1238-45.
Marcinow A, Ozer E, Teknos T, Hurtuk A, Wei L, Old M, Agrawal A, Carrau R, Iwenofu OH. Clinicopathologic predictors of recurrence and overall survival in adenoid cystic carcinoma of the head and neck: A single institutional experience at a tertiary care center. Head Neck.2014;36(12):1705-11.
Hemminger J, Iwenofu OH. NY-ESO-1 is a sensitive and specific immunohistochemical marker for myxoid and round cell liposarcomas among related mesenchymal myxoid neoplasms. Mod Pathol.2013 Sep;25(9):1204-10.doi:10.1038/mod pathol.2013.65 [Epub 2013 Apr 19]].
Jessica Hemminger, Amanda Ewart Toland, Thomas Scharschmidt, Joel Mayerson, William Kraybill, Denis Guttridge, O.Hans Iwenofu. The Cancer-Testis Antigen NY-ESO-1 is Highly Expressed in Myxoid and Round Cell Subset of Liposarcomas. Mod Pathol. 2013 Feb;26(2):282-8.