Daniel Jones, MD, PhD
Professor and Vice Chair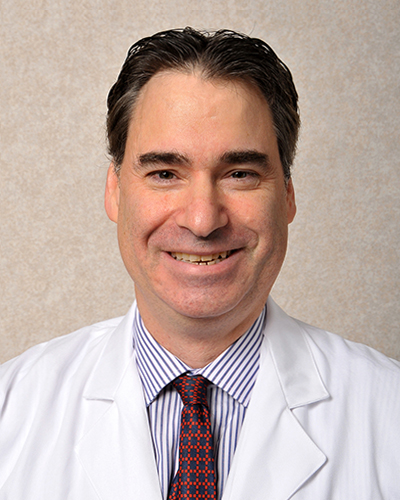 Phone:
E-mail:
Office Location:
085A Davis Heart Lung Research Institute
Mailing Address:
2001 Polaris Parkway
Columbus, OH 43240
Biosketch
Dan Jones, MD, PhD is Professor of Pathology and Vice Chair, Division of Molecular Pathology. He also serves as Director of Molecular Pathology for the Ohio State University Comprehensive Cancer Center -- Arthur G. James Cancer Hospital and Richard J. Solove Research Institute (OSUCCC – James). Dr. Jones earned his MD and PhD from Case Western Reserve University in Cleveland Ohio. He completed residency training and Hematopathology Fellowship training at Brigham and Women's Hospital, Boston MA and did post-doctoral work at Harvard Medical School. He is boarded in Anatomic Pathology, Hematology and Molecular Genetic Pathology.
His research interests center on SARS-CoV-2 genomics, immune and host genomic predictors of COVID-19 disease severity, and defining critical genomic features in the progression and therapy resistance of lymphoid and myeloid leukemia. Projects underway include novel design of next-generation sequencing virus and host immune assays, bioinformatics strategies for characterization of uncommon sequence variants in cancer-associated genes and TP53 and PALB2 structure-function models.
Board Certifications
Molecular Genetic Pathology. Medical licenses in GA, MA, OH, TX, VA
Hematology, American Board of Pathology
Anatomic Pathology, American Board of Pathology
Academic and Medical Appointments
2015-Present Professor, Department of Pathology, The Ohio State University, Columbus Ohio
Professor (Adjunct), Department of Bioinformatics, The Ohio State University, Columbus Ohio
Director, Molecular Pathology, James Cancer Hospital & Solove Research Institute
Member, OSU Comprehensive Cancer Center and OSU Biomedical Sciences Graduate School
2009-Present Professor (Adjunct), School of Health Professions, University of Texas MD Anderson Cancer Center, Houston, TX
2009-2015 Medical Director, Quest Diagnostics (various roles), Nichols Institute, Chantilly, VA
1999-2009 Professor (Full/Associate/Assistant), Department of Hematopathology, University of Texas MD Anderson Cancer Center, Houston, TX
Education and Training
1997-1998 Post-doctoral fellowship, Harvard Medical School, Boston, MA (Laboratory of Timothy Springer)
1992-1996 Residency and Fellowship, Brigham and Women's Hospital, Boston, MA
1986-1992 M.D., Ph.D., Medical Scientist Training Program, Case Western Reserve University, Cleveland, OH
Selected Publications
Books / Book Chapters:
Barnhill RL, Jones DM. Inflammatory Reactions in the Skin: Introduction to Microscopic Interpretation Approach to Diagnosis. In: Barnhill's Dermatopathology. 4th Edition, McGraw-Hill, 6/2019.
Ho A., Jones D. Myeloproliferative Disorders and Myelodysplastic Syndromes. In: Molecular Diagnostics in Clinical Practice. 2nd Ed DGB Leonard Springer International, Switzerland, 2016
Zuckerberg L, Jones D. Non-lymphoid lesions of lymph nodes. In: Hematopathology. Eds E Jaffe, DA Arber, E Campo, NL Harris L Quintanilla-Martinez. Elsevier, Philadelphia, PA, 2016.
Jones D. Neoplastic Hematopathology: Experimental and Clinical Approaches. Humana Press/Springer: New York, 2013.
Jones D. Molecular Biology and Hematology. In: Wintrobe's Clinical Hematology. 13th. Eds JP. Greer, DA Arber, BE. Glader, A List, T Means, Jr., GM Rodgers. Lippincott Williams & Wilkins: Philadelphia, PA, 2013.
Jones D, Han Z. Lymphoblastic Leukemia and Lymphoma: Molecular Diagnostics. In: Molecular Genetic Pathology. Ed(s) Cheng L, Zhang D, Eble JN. Springer: New York, 2013.
Publications:
Park D, Bergin SM, Jones D, Ru P, Koivisto C, Jeon Y-J, Sizemore G M, Kladney R, Hadjis A, Shakya R, Ludwig T. Ablation of the Brca1-Palb2 interaction phenocopies Fanconi anemia in mice. Cancer Research July 30, 2020 doi: 10.1158/0008-547. PMID: 32732220
Kneuertz PJ, Carbone DP, D'Souza DM, Shilo K, M, Zhao W, Williams T, Jones D, Merritt RE. Prognostic Value and Therapeutic Implications of Comprehensive Molecular Testing for Resected Early Stage Lung Adenocarcinoma. Lung Cancer 2020 May;143:60-66. PMID: 32208298
Hu, EY, Blachly JS, Saygin C, Ozer HG, Workman SE, Lozanski A, Doong TJ, Chiang C-L, Bhat S, Rogers KA, Woyach JA, Coombes KR, Jones D, Muthusamy N, Lozanski G, Byrd J-C. LC-FACSeq is a method for detecting rare clones in leukemia. JCI Insight. 2020;5(12):e134973. PMID: 32554930
Döhner K, Thiede C, Jahn N, Panina E, Gambietz, Prior TW, Marcucci G, Jones D, Krauter, J, Heuser M, Lo-Coco F, Ottone T, Nomdedeu J, Mandrekar SJ, Huebner L, Laumann KM, Geyer SM, Klisovic RB, Wei A, Sierra J, Sanz MA, Brandwein JM, de Witte TMM, Jansen JH, Niederwieser D Appelbaum FR, Medeiros BC, Tallman MS, Schlenk RF, Ganser A, Serve H, Ehrninger G, Amadori S, Gathman I, Benner A, Pallaud C, Larson RA, Stone RM, Döhner H, Bloomfield CD. Prognostic and Predictive Impact of NPM1/FLT3-ITD Genotypes as Defined by 2017 European LeukemiaNet Risk Categorization from AML Patients Treated within the International RATIFY Study. Blood 2020 Jan;135(5):371-380. PMID: 31826241
Soma L, Kovach AE, Siddon AJ, Beck R, Gibson SE, Swerdlow SH, Kim AS, Wu D, Jones D, Cook KR, Prakash S, Rosado F, Crane G, Bradley K, Weinberg OK, Sargent RL. Molecular and Cytogenetic Education in Hematopathology Fellowship: Proceedings from the Society for Hematopathology, 2018 Program Directors Meeting. Am J Clin Pathol. 29 May 2019. PMID: 31141139
Hampel H, Pearlman R, Beightol M, Zhao W, Jones D, Frankel WL, Goodfellow P, Yilmaz A, Miller K, Bacher J, Jacobson A, Paskeet E, Sields P, Goldberg RM, de la Chapell A, Shirts BH, Pritchard CC and the Ohio Colorectal Cancer Prevention Initiative Study Group. Assessment of tumor sequencing as a replacement for Lynch syndrome screening and current molecular tests for patients with colorectal cancer. JAMA Oncol, 2018 Jun 1;4(6):806-813. PMID:29596542
Mims AS, Mishra A, Orwick S, Blachly J, Lisovic RB, Barzon R, Walker AR, Devine SM, Walsh KJ, Vasu S, Whitman S, Marcucci G, Jones D, Heerema NL, Lozanski G, Caligiuri MA, Bloomfield CD, Byrd JC, Piekarz R, Grever MR, Blum W. A novel regimen for relapsed/refractory adult acute myeloid leukemia using a KMT2A partial tandem duplication targeted therapy: results of phase 1 study NCI 8485. Haematologica, 2018 Jun;103(6):982-987. PMID: 29567781.
Cosgrove CM, Cohn DE, Hampel H, Frankel WL, Jones D, McElroy JP, Suarez AA, Zhao W, Chen W, Salani R, Copeland LJ, O'Malley DM, Fowler, JM, Yilmaz A, Chassen AS, Pearlman R, Backes F. Epigenetic silencing of MLH1 in endometrial cancers is associated with larger tumor volume, increased rate of lymph node positivity and reduced recurrence-free survival. Gyn Oncol 2017 Sep;146(3):588-595. PMID: 28709704.
Jones D, Woyach JA, Zhao W, Caruthers S, Tu H, Coleman J, Byrd JC, Johnson AJ, Lozanski G. PLCG2 C2 domain mutations co-occur with BTK and PLCG2 resistance mutations in chronic lymphocytic leukemia undergoing ibrutinib treatment. Leukemia 2017 Jul;31(7):1645-1647. PMID: 28366935.
Woyach JA, Ruppert AS, Guinn D, Lehman A, Blachly JS, Lozanski A, Heerema NA, Zhao W, Coleman J, Jones D, Abruzzo L. BTK C481S-mediated resistance to ibrutinib in chronic lymphocytic leukemia. J Clin Oncol. 2017 Feb 13:JCO-2016. PMID: 28418267.
Woyach JA, Guinn D, Ruppert AS, Blachly JS, Lozanski A, Heerema NA, Zhao W, Coleman J, Jones D, Abruzzo LV, Gordon A, Mantel R, Smith LL, McWhorter S, Davis M, Doong T, Ny F, Lucas MS, Chase W, Jones J, Flynn J M, Maddocks KJ, Jaglowski S, Andritsos L A, Awan FT, Blum K, Grever M R, Lozanski G, Byrd JC, Johnson AJ. Development and Expansion of Resistant Subclones Precedes Relapse during Ibrutinib Therapy in Patients withbel CLL. Blood, 128(22), 55, 12/2016.
Zhao W, Chuadahry S, Patterson P, Zhang G, Kellough D, Jones D. Histone methyltransferase EZH2 expression marks proliferation rate and histologic progression not subtype in chronic lymphocytic leukemia in contrast to methylated DNA levels. Mol Pathol 29;387A, 2/2016
Zhao W, Patterson P, Long S, Zhao K, Mohamed N, Varghese S, Shapiro C, Coleman J, Tang Y, Ramaswamy B, Jones D. Shifts in mutation profiles between primary and synchronous lymph node metastases (mLN) in triple negative breast cancer. Mol Pathol 29;462A, 2/2016
Lee LA, Arvai KJ, Jones D. Annotation of Sequence Variants in Cancer Samples: Processes and P itfalls for Routine Assays in the Clinical Laboratory. J Mol Diagn. 2015 Jul;17(4):339-51.
Arvai KJ, Hsu YH, Lee LA, Jones D. A Transition Zone Showing Highly Discontinuous or Alternating Levels of Stem Cell and Proliferation Markers Characterizes the Development of PTEN-Haploinsufficient Colorectal Cancer. PLoS One. 2015;10(6):e0131108.
Dai Z, Kelly JC, Meloni-Ehrig A, Slovak ML, Boles D, Christacos NC, Bryke CR, Schonberg SA, Otani-Rosa J, Pan S, Ho AK, Sanders HR, Xhang ZJ, Jones D, Mowrey PN. Incidence and patterns of ALK FISH abnormalities seen in a large unselected series of lung carcinomas. Mol Cytogenet. 2012 Dec 3;5(1):44.
Jones D, Chen SS, Jabbour E, Rios MB, Kantarjian H, Cortes J. Uncommon BCR-ABL kinase domain mutations in kinase inhibitor-resistant chronic myelogenous leukemia and acute lymphoblastic leukemia show high rates of regression suggesting weak selective effects. Blood. 2010 Jul 1;115(26):5428-5429.
Jones D, Yao H, Romans A, Dando C, Pierce S, Borthakur G, Hamilton A, Bueso-Ramos C, Ravandi F, Garcia-Manero G, Kantarjian H. Modeling interactions between leukemia-specific chromosomal changes, somatic mutations, and gene expression patterns during progression of core-binding factor leukemias. Genes Chromosomes Cancer. 2010 Feb;49(2):182-91.
Gomah ME, Turley JP, Lu H, Jones D. Modeling complex workflow in molecular diagnostics: design specifications of laboratory software for support of personalized medicine. J Mol Diagn. 2010 Jan;12(1):51-7.